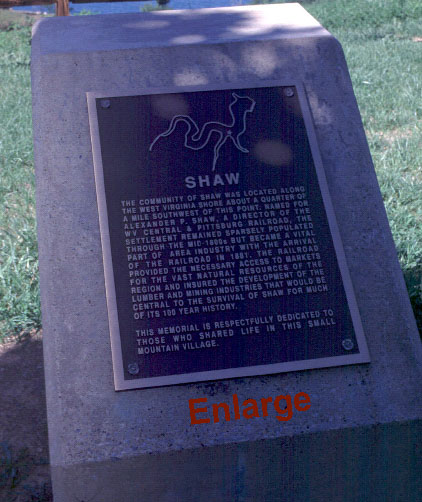 Memorial Plaque
For many years
visitors to the Jennings
Randolph Lake were in the dark about what lay beneath the surface of the water. They came to enjoy the beauty of the lake and the serenity of the landscape; but they had no idea that once a little town existed down below. Then the former residents of Shaw united in an effort to perserve the memory of their home town. Many of them signed a petetion requesting that the State of West Virginia do something to make sure their town would never be forgotten. The result is this beautiful bronze plaque which gives a brief history of the town. It was dedicated in 1991 during one of the annual reunions. Annual reunions are held each year at a picnic pavilion on the lake's edge.


Photo By:
"© 1999 Antony Platt"